"We absolutely loved the performance- so many people were touched by it." Event Coordinator
         "You've really captured the spirituality of Sister Faustina - excellent." Mother Superior
Nancy Scimone's acclaimed one-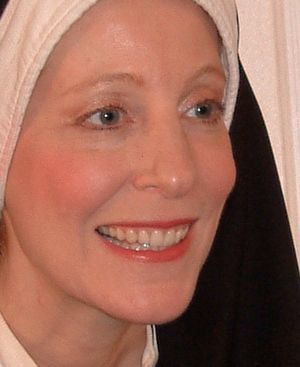 woman drama "Saint Faustina - Messenger of Mercy" is a story of Jesus's abundant Mercy. The script is created solely from selections from Divine Mercy In My Soul, the Diary of Sister M. Faustina Kowalska. The texts are not read, but dramatically portrayed in the persona of Sister Faustina -- her experiences of the Diary come alive. With the exception of briefly sung psalms, a Polish hymn that Sister Faustina writes about in her Diary, and the Sanctus, nothing is added to Saint Faustina's words and writings. 
To invite the listener into Sister Faustina's humble and intimate convent life, no special lighting or large scenery sets are needed to present the story.  The presentation is adaptable to any space large or small.  The Saint Faustina performance is appropriate for all ages, including small children.

The drama is presented in seven scenes, with each scene reflecting significant moments in her life, her growth in faith and virtue, her love for the Sacraments, the Virgin Mary and her relationship with Jesus. The drama also includes the background to the image of Divine Mercy, Divine Mercy Sunday, and the prayer "The Chaplet of Divine Mercy."  
Nancy Scimone assists you with publicity and promotion.  This program is affordable and has been presented over 100 times at churches, cathedrals, and women's events throughout North America.
Learn about Nancy Scimone's drama on Saint Mary Magdalene here: SAINT MARY MAGDALENE DRAMA
Please feel free to ask any questions:    music (at) NancyScimone (dot) com      571 -  232  -  1873
We are Faithful and obedient to the Holy Roman Catholic Church, Her teaching magisterium, and Her visible head on earth, His Holiness the Pope.