SAINT MARY MAGDALENE - "At the Feet of Jesus" Drama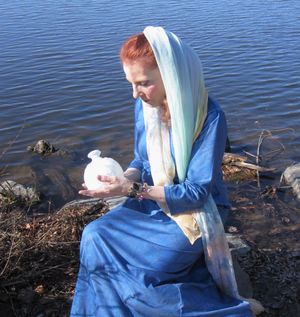 My new drama "At the Feet of Jesus" is a personal encounter with Saint Mary Magdalene. Based on sacred Scripture, my story seeks to honor this magnificent saint in a respectful and engaging way.  The drama shines light upon her faith in Jesus, her redemptive journey, and her commitment to following His teachings . . . even when many others walk away from Him.
"I loved how you brought Mary Magdalene to life (you actually look like how I think she may have looked)."
Mary Magdalene's courage and integrity inspire us today.  She was one of a small handful of people remaining at the foot of the cross at Jesus' crucifixion.  And, at the request of Jesus, she is the first to herald His resurrection to the world.  The Apostle to the Apostles … this is her legacy.
How Mary transcends from her difficult beginnings to this divine appointment is what my story celebrates. Trust, repentance, mercy, forgiveness, rejoicing.  Through Jesus' love and mercy, she understands the unique purpose that God desires for her.  My hope is that each of us finds a part of ourselves in Saint Mary Magdalene. 
"Thanks again, and your story and song lyrics are stunning."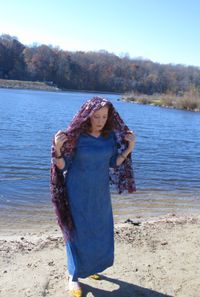 The script and the original songs are Scripturally based.  The songs are expressive and melodic.  The performance is costumed, and the presentation needs no special lighting. There are no large sets or scenery needed, and the performance adapts to any space large or small.  Beautifully directed by award-winning director Rob Tessier, "At the Feet of Jesus" is an excellent program for church events, conferences, retreats, fundraisers, and inspirational worship events.  The drama runs about one hour, and is good for ages 12 and above. 
"Thank you so much for your Biblical presentation...wonderful and gripping."
The program is affordable, and Nancy Scimone will assist you with publicity. 
Performances are now being scheduled for 2022. Contact: Music@NancyScimone.com or 571-232-1873
"Beautiful Performance."     "Magnificent" 
Learn about Nancy Scimone's drama on Saint Faustina and Divine Mercy here: SAINT FAUSTINA DRAMA
We are Faithful and obedient to the Holy Roman Catholic Church, Her teaching magisterium, and Her visible head on earth, His Holiness the Pope.